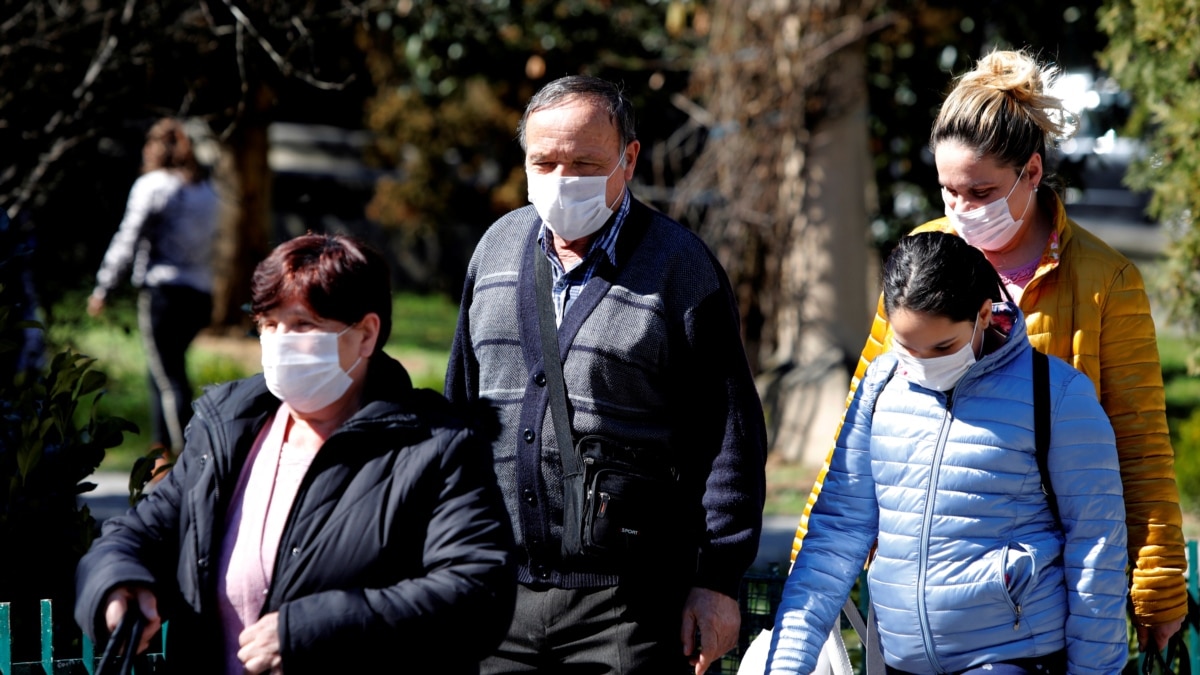 Health officials say Iran's death toll from coronavirus has reached 1,685, as the country continues to struggle with mounting cases and an overloaded health-care system.
The Health Ministry said on March 22 that another 129 people had died over the past 24 hours. The ministry also said the country's overall tally of confirmed cases of COVID-19 was 21,638.
Iran has been one of the worst-hit countries outside of China and Italy.
With the country reeling from the outbreak, officials have recommended Iranians stay home during the Norouz holiday, which began on March 20 and is one of the biggest holidays of the year for Iranians.
Officials have worried that efforts to slow the spread of COVID-19 will be hampered as people travel for the holiday to see friends and relatives.
The government has closed schools at all levels, banned sports and cultural events, and curtailed religious activities.
Many Iranians have also been angered by the temporary closure of Shi'ite sites, prompting some crowds to storm into the courtyards of two major shrines.
In a televised speech to mark Norouz, Iran's supreme leader rejected an offer from the United States for assistance in fighting coronavirus.
"We have many enemies, but the worst is the U.S….and now they want to help us," Khamenei said.
He said the United States would be better off helping its own people, with hundreds of American deaths being linked to the virus after a spike in cases over the last week.
Khamenei also cited an unfounded conspiracy theory that the virus could be man-made by the United States.
"Possibly your [offered] medicine is a way to spread the virus more," he said.
Kosovo
Local authorities say an 82-year-old man has died from coronavirus, Kosovo's first death from the disease.
The Public Health Institute said in a statement on March 22 that the man, who died in a hospital, had underlying health issues, including chronic cardiac and pulmonary problems.
Officials said the tally of confirmed infections in the country stood at 31, as of March 22.
The death comes as Kosovars grow increasingly impatient with the government, which has struggled to mount a coherent response to the outbreak.
Prime Minister Albin Kurti's shaky coalition government, which took four months to assemble after October elections, is on the verge of collapse because of disagreements over coronavirus measures.
Angry residents of the capital, Pristina, banged pots and pans from their balconies on March 19 to protest the government's actions.
Most of those infected in Kosovo have come from Italy or are related to someone who returned from a European Union member state.
Authorities have closed all schools, borders, flights, bars, and restaurants to curb the spread of the virus. Only supermarkets and pharmacies remain open.
Romania
Romanian authorities report that two people have died from coronavirus, the first such deaths for the country.
The government's Strategic Communications Group said on March 22 that the number of confirmed cases in the country had risen sharply, and now stood at 433, up from 322 just a day earlier.
Officials said the first victim was a 67-year-old man who had been suffering from terminal cancer and who died after having been infected on March 18.
The man had returned to Romania 12 days earlier, on March 6, from France, before restrictions on international travel had been imposed. The government did not say when he died, or how he had become infected, saying only that he was being treated at a hospital in the southern city of Craiova.
A total of 23 medical workers who were in contact with the man have been tested for coronavirus; of the 18 tests that have been returned so far, all were negative, officials said.
The second victim was a 74-year-old who had been diagnosed just the day before, and was already being treated for kidney problems. Officials said that person died in a medical facility in the capital, Bucharest.
The government declared a state of emergency on March 16 and on March 21 announced a nighttime curfew.
The curfew will restrict the movement of people from 10 p.m. to 6 a.m. and go into effect on March 23. It is expected to last through the 30-day state of emergency declared on March 16.
Those exempted include people going to work and those requiring medical assistance.
Interior Minister Marcel Vela and other officials said the measures will also prohibit gatherings of more than three persons outside the home and will mandate the closing of shopping malls and dental clinics. Restaurants and other gathering places were ordered closed earlier in the week.
During the night curfew hours, the only people allowed to move about are medical professionals, those engaging in work activities, shopping for necessary items, and caring for children or the elderly or people walking their pets.
"Everything we have decided to implement is meant to limit the risks to the population," Vela said.
He also warned those who are price-gouging or taking other actions to profit from the crisis.
"We have taken strong actions against those who have tried to speculate on the situation in order to get rich. It's not just illegal — it's also cynical," he said.
Bulgaria
Bulgaria's president has vetoed new nationwide restrictions passed by parliament as part of the state of emergency imposed to fight the spread of coronavirus.
Rumen Radev said on March 22 that he opposed the new proposals, calling them "extremely restrictive" and a threat to civil liberties in the country.
"Hunger will prevail over fear," he said in a statement that was released announcing his veto.
Parliament passed the proposed measures on March 20 after an initial proposal from the cabinet a week before.
Among the proposed measures that Radev said he opposed were allowing authorities to track mobile-phone users, to ensure people infected with the coronavirus are properly observing quarantine.
The measures also call for giving increased public-safety duties to military units, and for freezing prices for some goods at a three-month average, in an effort to prevent price gouging.
As of March 22, Bulgaria has confirmed 171 cases of people infected with the virus. Three people have died since March 8, when the first death was announced.
Three people have also recovered.
North Macedonia
The government of North Macedonia says it has decided to impose a curfew from 9 p.m. to 6 a.m. beginning on March 22, the first time such a step has been taken since the country's independence in 1991.
Countries throughout the world are instituting dramatic measures in an effort to slow the spread of the coronavirus. Many have put similar curfews in place, while other cities, states, and provinces have been ordered into near-lockdown conditions.
As of late March 21, research by the U.S. Johns Hopkins University showed that total infections worldwide had surpassed 300,000 while deaths neared 13,000.
The same research shows that North Macedonia had registered 85 cases and no deaths.
However, experts caution that it is impossible to get an accurate count of the number of infections because of the lack to testing in many places.
In an emergency address, North Macedonia's prime minister, Oliver Spasovski, said that "we have decided to introduce the most radical measures in order to protect the health of citizens."
"Starting [on March 22], we will restrict the movement of all citizens. It is forbidden for the population to move outside between 9 p.m. and 6 a.m. every day. There is no compromise when it comes to the health of citizens," Spasovski warned.
The prohibitions exclude persons who need medical assistance or whose lives are endangered. Those who need dialysis are allowed to arrive for treatment with up to two other people.
Employees in health-care facilities are also excluded from the curfew, as are members of the Ministry of Interior, the army, fire crews, and workers in municipal hygiene.
Serbia
President Aleksandar Vucic said the government will extend a curfew that is already in effect by three hours as Serbia attempts to curtail the spread of the coronavirus, making it a 12-hour ban from 5 p.m. to 5 a.m.
He said the steps were necessary "for our survival," and he threatened a 24-hour curfew if residents continued to ignore orders to remain indoors.
Serbia has registered 171 cases of the coronavirus and one death as of late on March 21.
In neighboring Bosnia-Herzegovina, the governments of the two entities on March 21 imposed nighttime restrictions on people outside their homes, with the Muslim-Croat federation ordering a 6-p.m.-to-5-a.m. curfew, and Republika Srpska restricting people to their homes from 8 p.m. to 5 a.m.
With reporting by RFE/RL's Balkan and Romanian services, Reuters, and AP